Videos of Presentations and Interviews
Draft Statute of the Multilateral Investment Court
Marc Bungenberg and August Reinisch
This Draft Statute of the Multilateral Investment Court is the result of a three-year research project. It is based on the study 'From Bilateral Arbitral Tribunals and Investment Courts to a Multilateral Investment Court', which was first published in German by Nomos, Facultas and Dike in 2018 (see https://www.nomos-shop.de/titel/von-bilateralen-schieds-und-investitionsgerichten-zum-multilateralen-investitionsgerichtshof-id-69817/). A second, English edition, published by Springer in 2020, is now also available as an open access book (see https://link.springer.com/book/10.1007/978-3-662-59732-3).
The draft Statute is meant to stimulate discussion and to demonstrate that it is possible to create a Multilateral Investment Court (MIC) on the basis of a treaty.
The institutional and general legal setting of this draft Statute advocates for the establishment of an international organization based on a treaty, open to States as well as to international organizations. The Statute prescribes the MIC's jurisdiction over investor-State as well as State-State disputes. By joining the MIC, Members recognize its international and domestic legal personality, accord it with the privileges and immunities required for its independent functioning, and contribute to its budget.
The draft Statute also provides for a bench of judges (sitting as a Court of First Instance and an Appellate Court), a Secretariat, a Plenary Body, and an Advisory Centre. The Statute envisages that judges will be appointed for a longer period of time, be independent as well as impartial, and highly qualified. The proposed mechanism for the selection of judges is premised on the need to ensure that all regions and major legal systems are adequately represented.
The Statute expressly enshrines the rule of law, transparency, efficiency, consistency, and Members' right to regulate. It contains the fundamentals of procedure and incorporates, inter alia, the UNCITRAL Rules of Transparency in Treaty-based Investor-State Arbitration. The MIC may regulate its own rules of procedure in greater detail and adapt to the specific needs of future disputes.
With regard to the enforceability of MIC decisions, the Statute foresees a treaty-based obligation on all MIC Members to recognize and enforce them. Arrangements on enforcement in third States can be foreseen in a separate treaty. The new enforcement system also provides for the establishment of an enforcement fund.
With this proposal, we hope to contribute to the ongoing discussion.
Please find the text of the Draft Statute of the Multilateral Investment Court here.
For short introductory videos by the authors, see here.
Introduction by August Reinisch (.mp4)
Professor August Reinisch elected member of the International Law Commission (3.11.2016)

Univ.-Prof. MMag. Dr. August Reinisch, LL.M., Professor at the Faculty of Law of the University of Vienna and Head of the Section for International Law and International Relations, was elected member of the renowned International Law Commission (ILC) on Thursday by the United Nations General Assembly

The ILC consists of 34 internationally recognized experts of International Law. Its core responsibility is the codification and the progressive development of international law. The ILC hence plays a crucial role within the framework of International Law. Its work resulted in drafts for highly important treaties, such as the Vienna Convention on Diplomatic Relations or the Vienna Convention on the Law of Treaties.

Professor Reinisch was nominated as candidate by Austria and gained votes of a great majority of the UN General Assembly at the elections held on 3 November 2016 in New York. He will serve in this prestigious position for the term 2017 - 2021. http://legal.un.org/ilc/elections/2016election_outcome.shtml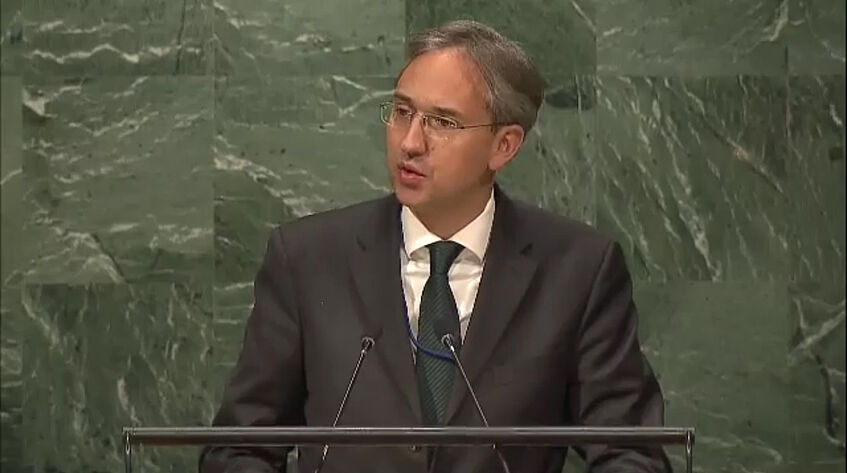 Prof. August Reinisch speaks at the UN General Assembly in New York (27.10.2016)

In a meeting of the United Nations General Assembly during its 71st session, Prof. Reinisch gave a speech in front of representatives of all UN member states. The meeting of 27 October 2016 focused on the report of the International Court of Justice on its work in 2015 and its role in settling disputes between states. Prof. Reinisch highlighted the importance of the International Court of Justice for the international community and addressed crucial issues in this regard, such as the necessity for states to recognize the ICJ's compulsory jurisdiction, to promote the rule of law, to increase judicial dialogue between international courts and tribunals as well as to further the aim of non-proliferation.

A video of the entire speech is made available under the following link: http://stream.univie.ac.at/media/jus/voelkerrecht/2016/arga271016reporticj_hi.mp4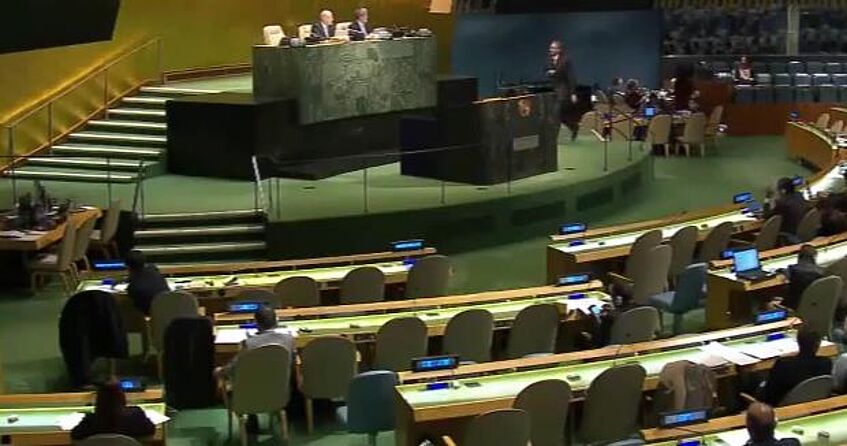 Prof. August Reinisch makes Statement on behalf of Austria at the Legal Committee of the UN General Assembly (25.10.2016)

In the 6th Committee of the United Nations General Assembly (Legal Committee) Prof. August Reinisch made a statement on behalf of Austria concerning the latest report of the International Law Commission. In his speech, he provided legal comments on various topics of the agenda, amongst others on the protection of persons in the event disasters, the identification of customary international law as well as subsequent agreements and subsequent practice in relation to the interpretation of treaties.

A video of the entire statement is made available under the following link: http://stream.univie.ac.at/media/jus/Rechtsvergleichung/reinisch-6th-committee-21st-meeting-71st-general-assembly3_1.mp4