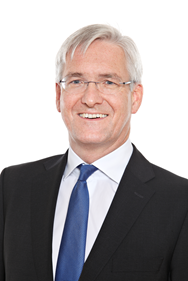 Hon.-Prof. MMag. Dr. Hanno Wollmann, LL.M.
Attorney at Law at Schönherr Rechtsanwälte
Contact: hanno.wollmann@univie.ac.at
---
Curriculum Vitae
Born 1964; Doctor of Laws (University of Vienna 1988) and Master of Social and Economic Sciences (Vienna University of Economics and Business Administration 1991); Master of Laws (University of Exeter 1991) and Master of Arts (King's College 2013); admitted to the bar in 1995 and partner at Schönherr Rechtsanwälte GmbH since 1998; set-up of the EU & Competition Practice Group at Schönherr after Austria's accession to the EU. Hanno Wollmann advises companies from a wide range of business sectors on issues of European and Austrian competition law, on general issues of European law and on selected topics of commercial and public law; party representative in proceedings before the General Court and the European Court of Justice; intermittent lecturer at the University of Salzburg, the University of St. Gallen, the Law Academy and the University of Vienna; honorary professor at the Faculty of Law of the University of Vienna since February 2022.
---
Teaching
Information on the module examination can be found here.